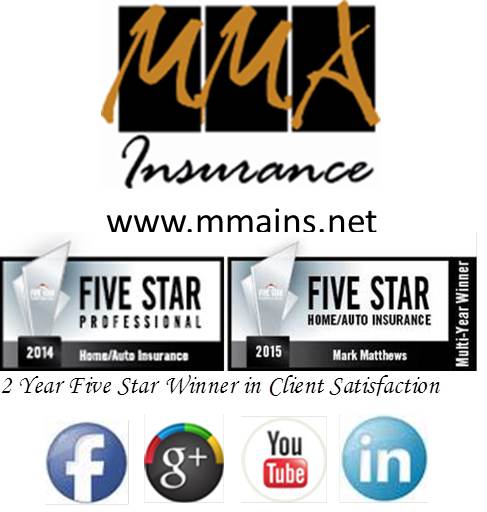 Mark Matthews wins the 2015 Five Star Home/Auto Insurance Professionals Award. He is now a 2 year winner. MMA Insurance is an independent agency serving central Ohio for more than 12 years. We are here to meet all your insurance needs. We strive on client satisfaction.
Read about it here. http://www.fivestarprofessional.com/profiles/247141
We are an independent agency that works with over a dozen insurance companies to find the right coverage's at the best price for you. Some of the areas of your life that we can help you with include:
Annuities
Auto Insurance
Homeowners/Renters Insurance
IRA/401k
Farm Insurance
Life and Health Insurance
Disability & Long Term Care Insurance
Business Insurance
Umbrella Insurance
Feel free to visit our new website and learn more about your personal experience. Read reviews of our clients, who put their trust in us to provide them with the best coverage, for a lower premium. While you are reading about us, click on "Get A Quote." Submit your request and our staff will gladly help in discussing your needs.
Some of our insurance providers include: Erie Insurance, Pekin Insurance, Mapfre Insurance, Travelers, Western Reserve Group, The Hartford, Allied Insurance (A Nationwide Insurance company), Donegal Insurance Group, Grange Insurance, Hagerty (Collector Car & Boat Insurance), Harleysville and Progressive. Give us a call today.